I had the pleasure of receiving for review
America the Beautiful Curriculum Package
by
Notgrass Company
.
The curriculum is a one year study of American History for grades 5-8.
It includes a student text (parts 1 & 2);
a hardcover collection of historical documents titled
We The People
; a 61 page book of 30 maps titled
Maps of America the Beautiful
; an illustrated timeline; and an answer key book for answers to all activities included for the
timeline
,
student workbook
, and assignments included in the main text.
Everything is included in this package for a thorough study of American history for $99.95.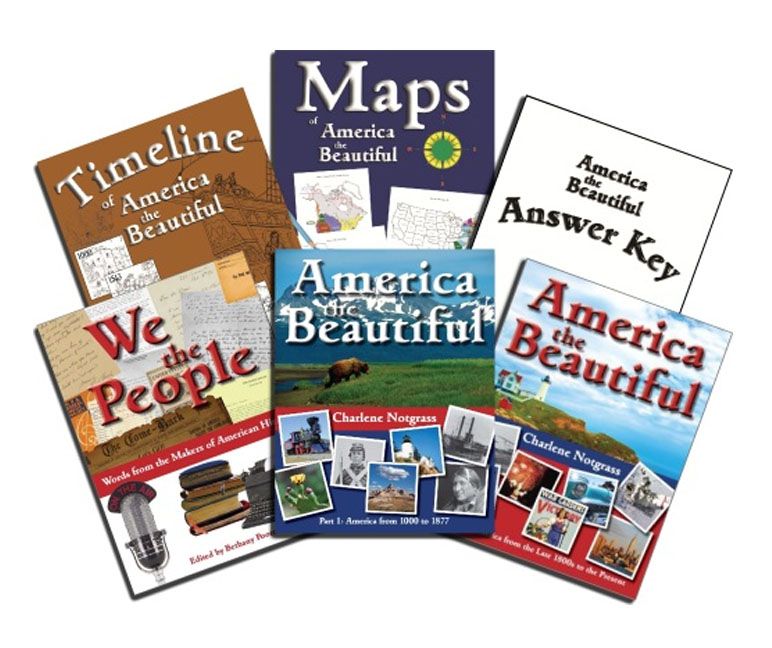 America the Beautiful student text part 1 includes 75 lessons beginning with the study of Native Americans through the Civil War.
America the Beautiful student text part 2 includes 75 lessons beginning with Western Expansion through Modern Times.
Each text contains 15 units.
Students are expected to read one lesson a day.
Many lessons will include a map number which corresponds to a map activity in the
Maps of America the Beautiful
book.
Students have several activities to work on at the end of each lesson.
They can pick and choose the activities they want to do or that you assign.
Some of these activities include readings from
We the People
, creative writing assignments, and vocabulary activities.
Notgrass Company also sells a
student workbook
, and a
lesson review book
to further engage students in the study of the material.
The lesson review book has 5 comprehension questions for students to answer about the lesson and unit quizzes (1 units covers 5 lessons).
The lesson review book is a consumable book and retails for $9.95.
The student workbook is a fun collection of crosswords, fill in the blank, word searches, and puzzles that reinforce the lessons in the student text.
It is designed for younger students or any age student who enjoys these activities (kids like mine)!
The student workbook retails for $11.95.
One last optional add-on to this curriculum is the literature package.
The books included in the literature package include (as listed at
www.notgrass.com
):
The Sign of the Beaver by Elizabeth George Speare (Units 4-5)
Amos Fortune: Free Man by Elizabeth Yates (Units 6-7)
Brady by Jean Fritz (Units 9-10)
Bound for Oregon by Jean Van Leeuwen (Units 12-13)
Across Five Aprils by Irene Hunt (Units 14-15)
Little Town on the Prairie by Laura Ingalls Wilder (Units 16-17)
All-of-a-Kind Family by Sydney Taylor (Units 19-20)
Blue Willow by Doris Gates (Units 21-22)
Homer Price by Robert McCloskey (Unit 25)
Katy by Mary Evelyn Notgrass (Units 29-30)
The literature option is included in the list of activities students can complete at the end of each lesson.

You can purchase the literature package from Notgrass Company for $59.95.
Here is what I love about this curriculum:
It includes beautiful illustrations in each lesson.

My 2.5 year old foster son flipped through many of the pages fascinated with the animal pictures.

There are multiple options for reinforcement and further investigation

Incorporation of primary source material in We the People

The inclusion of real books (literature package)

Each lesson is focused, doesn't overload student with too much information

biblical tie-ins when applicable
I enjoy the fact that the entire curriculum can be used as written but there is also room for pulling out topics for study without losing cohesion and comprehension.
For example, one lesson from part 2 of the student text was on the US Mint and the 50 state quarters program started by President Clinton.
My daughter started collecting the state coins months ago for fun but we really didn't know the origin and meaning behind the coins.
We learned a great deal from this unit and the corresponding activities.
That was a nice surprise within the text.
It was cool to see a picture of each coin so she knows what to look out for to complete her collection.
Another lesson we enjoyed was a WWII lesson about the authors' own father. It was a personal account of the father's service complete with his travels around the US and Europe and how he found his wife in England. It was such a heart-warming story that left an imprint on my mind and made the war effort a real event in our nation's history.
I only have one student who fits the grade level for this curriculum. I really want to use it from beginning to end but I don't know how to include it in our plans. I hadn't planned to revisit American history until high school with this student.
My 11
th
grader will be using the Notgrass American high school curriculum this coming year. Additionally, we've also used the World History highschool curriculum by Notgrass. I highly recommend all of these products although they don't include all the fun extras (maps, timeline, student workbook) that this curriculum includes.
Click to
read more reviews
from the Schoolhouse Review Crew