I received a print version of
Beauty in the Heart
published by
Doorposts
in exchange for my honest review of the product.
Doorposts is a provider of biblical based parenting and character training materials.
They have products for young men, young women, husbands, fathers, mothers, and young children.
Specifically, Beauty in the Heart is a study of Godly beauty for young women ages 10-12 to adult.
Ten chapters focus on: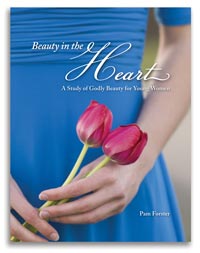 Beauty in Submission (a study of 1 Peter)
Beauty in the Heart (a study of 1 Peter 3:3-4)
Beauty in Trusting God (study of Sarah)
Beauty in Humility (study of Esther)
Beauty in Modesty (study of 1 Timothy 2:9-10)
Beauty in Serving (topical study)
Beauty without Discretion (study of Proverbs 11:22)
Beauty in Crisis (study of 1 Samuel 25)
Beauty in the Gates (study of Ruth)
Beauty in Review
After a quick thumb through of the chapters, I decided to do the first chapter alone.
The study methods used in this chapter and throughout the book took me back to my younger days of being a Christian where I took the time to dig deeper in my bible study.
I'm sad to admit that I had to dust off the bible dictionary and commentary books that I haven't used in let's just say a long time.
I suppose I've gotten lazy in my approach to studying the Word of God.
There are so many resources available these days that do the work for you that I rarely do the hard work myself.
I can also get stuck in a rut in the way I approach the Word of God settling for reading and meditating or scripture memorization, instead of studying.
Not that what I already do isn't important but I should always be looking to go deeper.
I am thankful this study reminded me of that.
Have you ever read something in the Bible and later tried to remember what you read?
The approach to studying that Beauty in the Heart incorporates eliminates that problem.
As much as I have read 1 Peter especially the commandment to wives being submissive to their own husbands, I've never focused on the whys of God's commands to those who are under authority of any kind.
Filling out the charts in the book regarding the commands given in 1 Peter, left me thinking about the study days later.
These aren't just commands to follow but the reasons in the bible for following the commands really drove the scripture's meaning deep into my heart.
The first chapter wasn't a topic for MY 12 year old who was a part of reviewing this book.
With this particular child some things are better caught than taught.
She is an interest led learner.
I think she would have been lost in the lesson.
However, it would be much more effective for me to bring out the importance of submitting to any given authority in a moment of her not wanting to submit.
By contrast, I knew when I thumbed through the Esther study this was right up her alley.
Because she is a huge Esther fan, she paid very close attention to the hidden treasures in this study.
This is the first time she has used additional resources to study the bible (commentaries, etc.).
Let's just say she isn't always so eager to go the extra mile.
Nor is she enthusiastic about using multiple resources to complete an assignment but it is important she learns how to use these tools now.
I really like that the margins include what you will need to do the study (i.e. a commentary, concordance), background information relevant to the study, suggestions for further study, and links for online commentaries, bibles, Greek/Hebrew translators.
There is a lot of good stuff in the margins.
I am most grateful that this product incorporated additional study aids and cross references while studying a passage of scripture.
My daughter said she didn't learn anything new but reading her answers to the questions in the study tells me otherwise.
She was able to make connections by cross referencing scriptures and deciding how those scriptures related to her study.
She did say after doing the Esther study she feels as though Mordecai was the real hero not Esther. That would make a good debate.
We will continue to work through the lessons in the book.
I wish there were other studies written in this way on various biblical topics.
You can purchase the hard copy of Beauty in the Heart for $14. Now through 8/31 you can receive an free instant download PDF copy of the book when you order a hard copy. Or purchase just the ebook for $10.