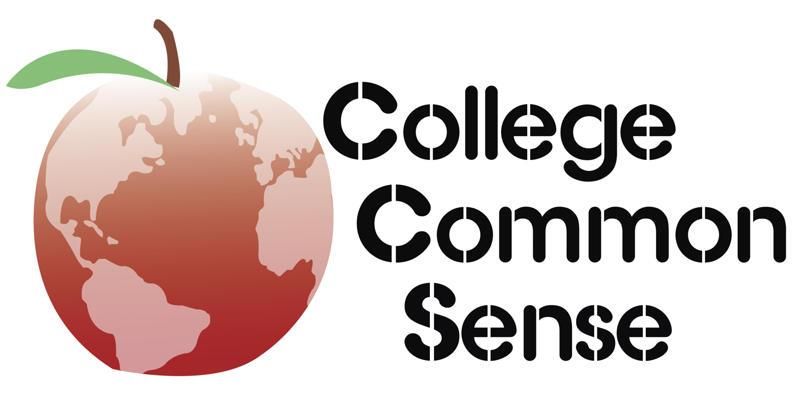 I will be graduating my first homeschool student in 2 years.
That thought is a little scary.
I've been very proactive in sculpting her high school years so that she is prepped for college level work. Year after year fussing over curriculum and resources and then you are faced with the overwhelming process of college applications.
I have researched schools, saved scholarship information to review when needed, and done countless other things to help her grow and mature in her desired field of study.
I am determined to not screw this up.
That is what every home school mom fears – screwing up their child's future.
The timing could not have been better for me to review the
College Common Sense
"Going to College and Paying for it" DVD and Workbook program
by Denise Ames, as I am now discussing post high school options with my sophomore student.
College is definitely on our minds and having this product was timely.
The product comes as a
DVD/Workbook
combination for $50 + shipping or you can pay $25 for online access to the videos for one year and a downloadable workbook.
The latter is the product I had access to.
My daughter and I watched the online videos together and it really held my high schooler's attention as she is really interested in knowing more about the process and how to get money for college.
The College Common Sense
program can be used with students in all grades since there are scholarships out there for elementary aged students.
In my opinion it is most beneficial for the high school student.
Lesson Plans were sent via email telling me exactly what to do for that week.
The first set of plans I started with had me filling out the FAFSA4caster at FAFSA.gov to see if my daughter was eligible for need based aid.
Going through this exercise helped me to understand how need is a relative term.
What one needs in terms of financial aid depends upon the cost of attending a given school.
So I shouldn't avoid the expensive schools just because of cost.
The lesson plans also include SAT type activities for kids to practice.
Since we do our own SAT prep we skipped over these exercises.
The second set of lesson plans had us actually searching for scholarships that my daughter was eligible for.
We found one that was relatively easy to apply for and sent off the online application.
This really gave us a feeling of accomplishment.
Two other scholarship opportunities my daughter emailed to herself to fill out later as they require essays.
She picked essays that didn't require too much research as she could pull from her own experiences and produce a good essay easily.
Before viewing the online videos you can download a pdf file which is a detailed explanation of what is on the video.
This is great so that you can go back over the details after looking at the video.
The video covers topics such as the financial aid process, and how to find free money for school, and organizing the system.
Currently, I keep all scholarship information in an email folder on my computer.
Ms. Ames' system is a paper system that organizes all scholarship information by month in a binder.
This is a good system as it ensures that you always have something to put your hands on and that you constantly work on your binder and scholarship goals.
Depending upon how many scholarships you apply for, I do see how it can get confusing if you don't remember what you've applied for or which deadlines are due when.
I have a spare binder and printed out some of the scholarships that require essays so that my daughter can work on these as soon as possible.
Highlighting important information on scholarship requirements as Ms. Ames suggested allowed me to catch important information on one scholarship with a 1500 word essay limit.
My daughter thought 1500 was the minimum so now we can go back and edit the current essay she is working on.
The College Common Sense
program can be very time consuming but you only get out of it what you put into it and I think it is well worth the effort.
Even if we don't win any scholarships, my daughter has had an abundance of essay writing practice which will come in handy at college.
We were able to visit one of the colleges on my daughter's list during the review period.
It really opened our eyes.
The school has a very comprehensive website and there is so much information there but visiting the campus and hearing what the professors and administrators had to say about their school was an entirely different process.
It is an urban campus with 20,000-30,000 students.
It has the best program for my daughter's intended major but we aren't quite sure how we feel about the campus being in the middle of a major capital city.
We got to tour two residential halls and eat at the student commons.
It was a long walk between buildings in cold weather but we enjoyed sharing this experience together.
The College Common Sense
program includes a college campus tour worksheet but we didn't take it with us.
Most of the information on the sheet can be found on the school's website so when we get closer to knowing which schools my daughter wants to apply to we will look over this worksheet to try and fill in the blanks.
For this visit we just wanted to soak up the experience.
VCU Rams


Disclaimer: I received a free copy of this product through the Schoolhouse Review Crew in exchange for my honest review. I was not required to write a positive review nor was I compensated in any other way. All opinions I have expressed are my own or those of my family. I am disclosing this in accordance with the FTC Regulations.