Using the resources produced by
God's World News
is a great way to make sure your student of any age is aware of what's going on in the World from a Christian worldview.
I received a full year subscription to the high school print publication entitled
Trak
to review for the OldSchoolhouse magazine review crew.
Through their many publications, God's World News provides news and interesting information for children so they will know God has the whole world in his hands.
The following publications are available: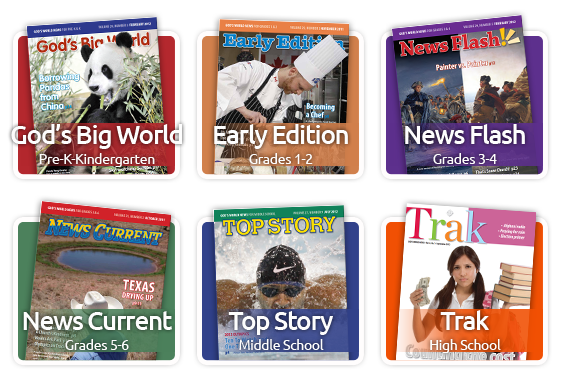 God's Big World (Grades PreK-K)
Early Edition (Grades 1 & 2)
News Flash! (Grades 3 & 4)
News Current (Grades 5 & 6)
Top Story (Middle School)
Trak (High School)
A home edition of the Trak publication includes 10 monthly issues (doesn't include December and May) for $28 and includes student website access at teen.wng.org
.
The first publication I received contained one national news story about the bankruptcy of Detroit, Michigan.
Other news stories were interesting but I wouldn't consider them "news."
The cover story for one magazine discussed the limits and lessons of artificial intelligence.
The cover story for another issue explored the methods border control agents use to track immigrants trying to enter the US at its borders.
All of the monthly issues cover a topic in technology, a sports topic, a business topic, and some sort of social issue.
Other tidbits sprinkled throughout the magazine include "Last Words," including quotes from notable people and political cartoons.
In my opinion the magazine is too light for high school.
There isn't enough depth for real discussion and critical thinking.
Frankly, I would let an elementary aged student read the Trak magazine intended for a high school student.
There isn't enough "real" news for my liking.
That isn't to say it wouldn't be a good fit for another family with a high school student but for us it's just not enough.
My 9
th
grader agreed.
She said she liked the magazine there were a lot of interesting stories but not any "real" news. The editors of God's World News encourages its readers to write the editors giving students experience in writing editorials and responding to the information they read.

(update) - I received my most recent magazine and it was like a different magazine! Lots of what I consider current events. There was the fairly recent shooting at the Navy Yard, Jerry Sandusky's recent appeals court appearance, Detroit mayor sentenced, the food stamp debacle, etc.
Then there were social news stories that captivated my attention. The story of Jennifer Bicha, sexual abuse victim; and the story about Pastor E.W. Jackson who I'd never heard of. The movie reviews were very informative and the notable books about American culture interested me. I immediately felt the need to update my review. I am really baffled by why this issue seemed so different from the other issues I'd already received up to now.


My current events curriculum includes watching the local and world news with the kids at night.
I don't think you can get any more current than that.
It gives me and my husband a chance to help them interpret what is going on as they watch.
While the local news is definitely not from a Christian worldview, the discussions we have help my kids understand the news from our biblical worldview.
I get more detail from the television news which I believe is important to get a better understanding of what's going on in the world.
Now here is where God's World News really wins me over – online!
www.gwnews.com
,
www.kids.wng.org
, and
www.teen.wng.org
have lots of web content that isn't included in the print magazines.
However,
you can still find a full digital copy of the print magazine. I love that you can visit any one of these sites and tab over to the others.
You can literally jump from one article to the next on these sites.
The teen website carries a lot of the stories I was more or less looking for in the print version like information on the recent federal government shut down.
All the articles on this site are under headings entitled
SciTech, Must Know, Beliefs, Fun Stuff, Live Culture, and Arts
.
Each section has various articles with biography information on notable people from the past and present.
There is an abundance of political satire as well.
I only wish it was balanced humor with many political leaders getting a fair share of attention.
It seems to be all about our President.
The kids website is organized around the following headings:
MySci, Creation, Time Machine, People/Places, Know Me?, and Fun Stuff
.
The Time Machine has many articles on information that is historical in nature. MySci contains articles related to science topics.
The Know Me? Section contains the biographies I mentioned previously from the teen section.
There is overlap between the three sites where appropriate.
Other resources online include tons of pdf files that can be used on various topics in Bible, Biology, Astronomy, Geography, and History just to name a few.
A teacher could really get creative in using these resources.
Immediately I thought the files would be great source material for outlining or teaching younger children how to summarize information.
Many more resources from God's World News includes:
Write with WORLD
writing curriculum
WORLD Magazine
Today's News | Christian Views
WORLDmag.com
Online news site
The World and Everything in It
news radio/podcasts
WORLD on Campus
Online news site for college students
Overall the magazines are great reading material for students working alongside their main curriculum. The online resources carry an abundance of resources and information to be used in creative ways. Click to
read more reviews
from the Schoolhouse Review Crew.