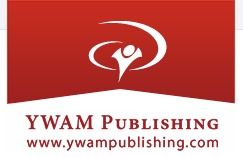 I was first introduced to YWAM through my use of My Father's World curriculum.
This company has a huge missions focus and a lot of their curriculum packages include mission biographies from YWAM Publishing.
The biographies I've read have left a huge impression on me and my children.
On many occasions a passage has leapt out at me and I stop to pray either for missionaries everywhere or for myself because of a personal response.
Giving to missionaries or missions in general has been another personal response I've had to reading YWAM biographies.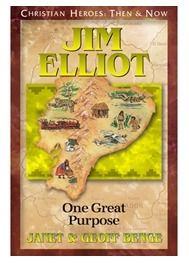 I printed out the pdf copies of Jim Elliot chapter by chapter.
My daughter and I were unintentionally competing with one another to finish each chapter before printing out the next.
It was like an exciting novel we couldn't put down.
We couldn't wait to find out what happened next.
The secondary story in the biography was the love story between Betty & Jim.
I was intrigued by Jim's longing for her friendship and ultimately realizing his need for her partnership in ministry.
Love that!
The Unity Study Curriculum Guide includes a lot of information to help make the reading of the biography an in depth unit study.
There are reading comprehension questions for each chapter, vocabulary, and scripture verses to memorize.
There are a few Spanish phrases the student can learn and many more activities.
Here's a sampling of what's included in the study guide:
Ideas for a display corner representing the country & culture of Ecuador
Creative writing suggestions
Arts & Crafts
Audio/Visual Projects
Hands-On Projects
Geography Assignments
Social Studies
Planning a Culminating Event
The Appendix includes additional books and resources to explore related to the many themes in the study. The paperback book of Jim Elliot can be purchased for $6.99 and is recommended for ages 10 and up. Kindle and Nook Ebooks can be purchased for the same price. Many of the biographies are packaged together as a set for a discounted price. We have purchased these in the past so I have quite a few biographies on my shelf that we must still read.

The Unit Study Curriculum Guide can be purchased for $7.99 and can be used for a range of grade levels.
At the time of this review, we are working on an oral presentation so that my daughter can present to the other members of the family what she learned about Jim Elliot and his life as a missionary in Ecuador.
She is deciding on the content to present but we will include a large map of Ecuador including all the mission stations where Jim and his team worked and a table spread with the foods that the missionaries treasured.
We will also include customary Ecuadorian food like empanadas, fruits, and a stew.
Since we love cooking around here we got a head start on homemade empanadas.
Since I had a chili type recipe leftover from dinner the night before, it was a perfect filling for the homemade empanada dough.
I just added cheese on top of the meat filling and voila!
Found a lovely website for Ecuadorian recipes
here
.
This recipe was a hit for the family and probably a keeper on my menu rotation.