I haven't had the privilege of using a lot of
Christian Liberty Press
products with the exception of one history book which was included in a package curriculum by another company.
I have an avid reader in my 8th grader so I asked her to read
Mr. Pipes and the British Hymnmakers
for my review of this book. My 8th grader usually reads Young Adult Fiction. I jokingly call her books junk food. She also reads classics and good literature that I schedule as part of her Language Arts program. Mr. Pipes was a hard read for her. If a kid likes junk food it's really hard to sell them on spinach no matter how good it may be.
The book is actually part of a 4 part series that can be purchased for $38.99. All the books tell a different fictional story of Mr. Pipes and his young companions and their many adventures as they learn about different hymn writers from different historical time periods.
In her opinion the story starts off slow and although she enjoyed learning the background of the hymns the story was boring. We think the book is more for a younger audience although it is marketed to grades 7-10. Books are kind of like movies so they are hard to recommend. It is just so subjective. We didn't care for
Mr. Pipes and the British Hymnmakers
so you really have to examine the book for yourself to decide if it is a good fit for your kids.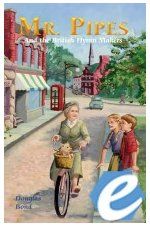 We read the pdf version which sells for $8.79. However, a print version of the book is available for $9.89.
See what my "crew mates" thought of
Mr. Pipes and the British Hymnmakers
by clicking on the image box below:
Disclaimer: As a member of the TOS Crew, I received this product, at no cost to me, in exchange for my honest review. All opinions are mine.