In my experience, so many people come to believing faith in God and Jesus Christ through personal experience.
There is a need in their life and they find solutions in the God of the bible.
It is an experiential faith.
However, what happens to the man that has no visible need? He feels that he is getting along in life without needing a God?
I Don't Have Enough Faith to be an Athiest
is the answer for such a man.
It is objective and steers one to the five most consequential questions in life:
Origin:

Where did we come from?
Identity:

Who are we?
Meaning: Why are we here?
Morality:

How should we live?
Destiny:

Where are we going?
It is impossible to know 100% that any belief system is correct.
Because we have limited knowledge as human beings we live in the world of probability to support our claims and beliefs.
There is overwhelming evidence that can be examined that God's existence is true.
What evidence supports the belief that he isn't?
It actually takes more faith to believe there is no God than it is to believe there is; hence, the title of the curriculum.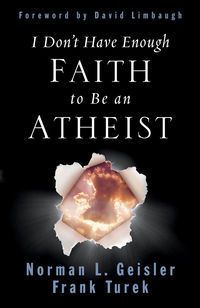 The book is organized around 12 points that each chapter examines and proves through established evidence.
So much of what is believed about God is based on faith and experience.
This book sets out to appeal to human intelligence and challenges the reader to examine the evidence regarding the existence of God and biblical events.
It is a great study for a high school student as they prepare to go out into a world that is rather hostile to the Christian faith.
The accompanying
workbook
is a nice companion to the text for the student to review and critically think about the material he has just read.
You can also download tests from Apologia's website.
You can find all of these products and many more at Apologia Educational Ministries' website.
The
I Don't Have Enough Faith to be an Athiest
sells for $16.00.
The
I Don't Have Enough Faith to be an Athiest
workbook sells for $33.00.
This year my daughter is using Apologia's high school science. My middle daughter is using Apologia Physical Science curriculum. We have used the elementary series in the past with great success. I love many of their products and they are very popular in the homeschooling community. Many high schoolers are well prepared for college level science after using Apologia's texts. They not only have the high school Apologetics course reviewed here but an elementary series as well.
See what my "crew mates" thought of
I Don't Have Enough Faith to be an Athiest
by clicking on the image box below:
Disclaimer: As a member of the TOS Crew, I received this product, at no cost to me, in exchange for my honest review. All opinions are mine.